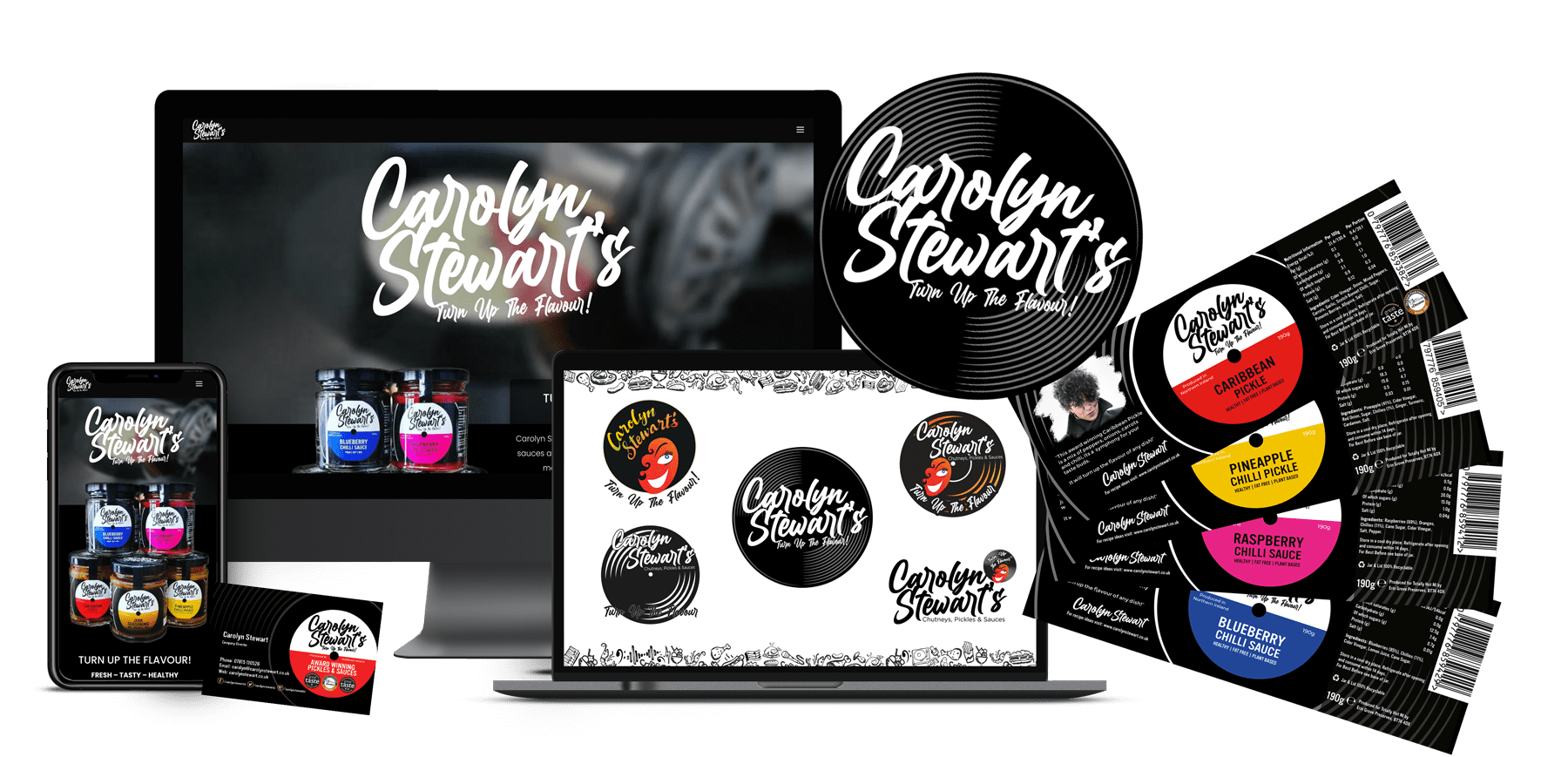 Carolyn Stewart
Carolyn Stewart approached us in 2019 to redesign and restyle her business in Pickles and Sauces. Feeling that the old brand concept was not working we took inspiration from Carolyn's passion for music.
As a famous radio presenter and DJ based in Belfast, Carolyn already had an amazing following but wanted to reach a bigger audience and have a brand that stood out on the shelf against her competitiors.
We think that we have acheived this and her business is going from strength to strength.
Brand & Logo Design / Brand Strategy /  Copywriting / Creative Direction / Graphic Design /  Web Design & Development / E-Commerce Shop / Print Collateral / Digital Marketing
The branding was all about feel and love of music, along with the function of the product and explination of what it does.
"Turn Up The Flavour" really said everything we wanted to say in one line.
When we initially started the project we were looking to give the old brand a slight uplift and redesign the labels for the jars and bottles. The old brand "Totally Hot", didn't really sell the association with Carolyn and also targeted the product at a specific audience (people who like hot food).
After consultation with Carolyn and agreeing a name change it opened up wider opportunities for the brand. Renaming the business to Carolyn Stewart and using the strapline "Turn Up The Flavour", we felt really worked.
Using the music theme we then came up with some logo and branding concepts you will see below. This has now been worked into all products and POS, including website, labels, banners, stationary and advertising.
Superchance have become an integral part of my business. They are my go-to, whenever I need to talk about material being designed for my brand it's Superchance.
You will not be disappointed if you use Superchance for your business.
Carolyn Stewart
Director – Carolyn Stewart : Pickles & Chutneys